Welcome to Sapakara Fun Parcs! Be prepared for a unique and thrilling indoor experience. Sapakara offers fun activities for toddlers, children, teenagers, and adults. Enjoy yourself in a great family friendly environment.
Run through our unique Jungle Tag and collect the most points or become a virtual game character in Jump Interactive, while the smaller ones can enjoy our amazing Playground.
End your visit in Sapakara in our restaurant bar. You can enjoy a tasty homemade meal and for groups or large companies we can prepare special menus.
---
Jungle Tag
Compete individually or score points with your team through our Jungle Tag, an interactive obstacle course where speed, endurance and strategy will help you get the highest score.
Put on your sneakers, charge batteries, put on our bracelet and get the greatest number of lights for you or your team.
Sessions are 20 minutes long, but we can offer 1 hour of Jungle Tag with 3 sessions.
Make teams and score points from the bracelets (here the organization of the team and strategy helps to win).
Teamwork
Self-improvement
Challenges
Cooperation
Organizational development
Leadership development
Requires physical and intellectual effort
Objectives of the Jungle Tag:
Improve employee motivation
Strengthen the trust of team members
Effective collaboration = productivity
---
Jump Interactive
After competing, running and sweating…have fun in our Jump Interactive
Create endorphins by jumping and racing against a partner on the interactive trampolines.
Improves resistance to stress
Awareness of own potential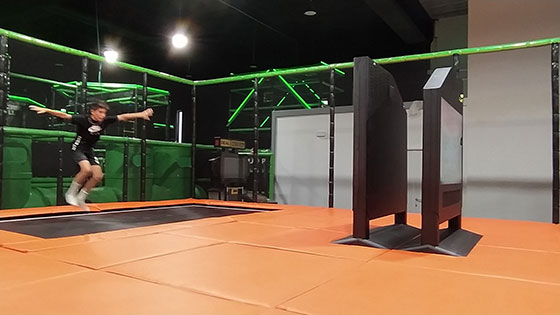 ---
Contactar
For more information on prices and availability, contact by e-mail at [email protected] or by calling 93 60 61 888.